Karmdal Ardente

DKK reg. nr: DK10132/2010

(Tokfias Bandit x Goldene Horde Coco)

Male / Born 21 May 2010 / Griffon Petit Brabancon / Tan / Inbreeding koefficient: 0,00%


Ardente means burning, fire.





Photo: Lone
Karmdal Ardente came into the world one friday evening 9.30 pm. He had a weight on 205 gr. so he was a big boy.
Two hours old he was moving around, so we had to keep an eye on him all the time. He is a happy and lifefull puppy.

Karmdal Ardente has been sold to France!

Pedigree:
Karmdal Ardente

DK10132/2010
Tokfias Bandit

S52108/2008 R K
DKK reg. nr: DK17586/2009


S20800/2004

R K
SUCH
Jaydean Upside Down

KCAB0901352

R S
AUCH NLCH NZCH
Beagriff Galliard

KCSB0165CL

R
Jaydean Also In Red



S21913/2005

R S
SUCH
Busungarnas Ariel

S10879/2000

R K
SUCH
Beauview Baroque

S10306/2002

R S
INTUCH NORDUCH
Charka Red Roses
Goldene Horde Coco

VDH-VK 08.1442 /
DKK reg. nr: DK17737/2009
Pink Kvest Specially for Me
RKF 2060418
Pink Kvest Liverpool
RKF 1729255
Pink Kvest A'Iron Lady
RKF 1464561
Antuanetta Assante
RKF 1991881
VDH-VK 07.1891
Pti Piter Eka Sibiryak
RKF 1574707
Senat Kurazh Zheneva
RKF 1404356
Photos taken 15 June 2010:
Photos taken by Betina Nielsen, StarPhoto.dk 23 May 2010: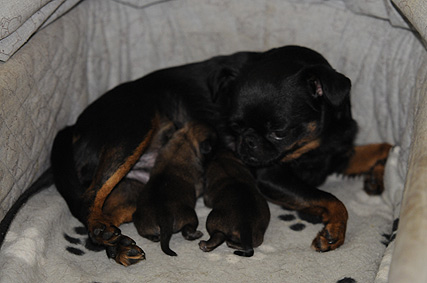 Dad and mom:
Tokfias Bandit
Photo: StarPhoto.dk
Goldene Horde Coco
Photo: StarPhoto.dk